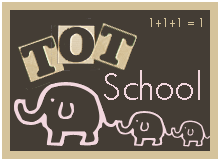 This week in Tot School, it was very busy, but entertaining. We continued our lesson on the Letter B, and learned how to sort/organize our things. The sorting led itself to a review of all our colors. And she did great with that. Some of you may find a little something familiar with each of the pictures that follow. That's because I was super busy blog-stalking this week and got lots of great ideas from the other
Tot School Moms
. (Thanks guys!)
This idea was actually my own...I got out my small Xyron machine and let Lindsay make "B" stickers to put on the Blue Blocks and B's project we did.
This one has nothing to do with Tot School, but I thought it was too cute not to include! She's such a mess!
What a face!
We learned about sorting, using different sized boxes with different materials inside.
Clean up time!
Baking cookies with Mom! Yummy!
This is the old piano bench that we converted into a little desk for Lindsay.
"B" is for Belly Button!
Sorting - I love using Ice Cube Trays and brightly colored fuzzy balls. These are the ones with the little irredescent spikey things - they are a little easier for Lindsay to pick up and hold onto.
For other Tot School Reports from other moms, visit Carisa's blog at
1+1+1=1.