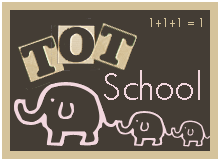 This week was a slow week for Tot School...well kind of. It was actually pretty busy for Lindsay, but I didn't take a lot of pictures because I was being a slacker...I admit it. I didn't charge the batteries in the camera, my dog ate my SD card, my husband monopolized the computer. I've got a ton of excuses, but none of them are really true. I just didn't get to the picture taking this week. :( I feel so horrible!
Theme: Food Groups / Cooking
Letter: O
Color: Orange
Shape: Circle
Since Trey was already doing Lessons on the Food Groups, I thought this would be an excellent Tot School opportunity. She learned about healthy snacks as opposed to junk food, and I showed her the different food groups. We also did a little of the following:
Fine Motor Skills: Cutting with a (child-oriented) knife: Lindsay learned how to use a kid-friendly plastic knife to help Mom cut up celery, carrots, and hard-boiled eggs. She also helped me make Mickey Mouse Pancakes one special morning. :)
Learning Center: Dramatic Play - Kitchen / Apron / Chef Hat Dress Up: Lindsay had a great time playing chef in her Kitchen Closet (our hall closet that we cleaned out for her). She and Addie got matching embroidered aprons for Christmas from their B. The chef hat was a gift to Addie from Santa Clause. But I've seen them at Bed Bath & Beyond for around $8. :)
Gross Motor: Jumping Jacks / Wii-Fit (we love this game during the winter!!)
Pre-Math: Making a "pizza" with a circle. I cut out a large circle out of cardstock and then cut out several smaller circles for the pepperoni. We then cut the pizza into 4 equal slices for each of her pizza party attendees (her baby dolls). She actually caught on faster than I thought she would. I thought the fractions would confuse her, but she was able to duplicate it perfectly.

Getting ready for some pancakes!!!!
Playing Chef Lindsay! I call this "Heaven's Kitchen"!!! Isn't that the cutest little apron??? It has her name embroidered on the front in hot pink. Thanks B!!!

Just a look at the large hall closet I cleaned out for her to play in. She loves it!
I wasn't sure what category this activity fell into. But Lindsay and Addie received these little Magnetic Creations as Christmas gifts this past year, and boy am I glad! Lindsay will sit for hours playing with these!! They come with different scenes and little magnetic figures you can rearrange. She loves to use her imagination to make different scenes.
Here's what the Magnetic Creations look like when opened up. The backgrounds are interchangeable, allowing her to choose which scene she wants to create. Lindsay likes to use all four at once and pretend it's a large "neighborhood" of folks talking back and forth to each other and going over to each other's "place" to visit and have slumber parties. :) What a sweet little imagination!
For more ideas from other Tot School moms, go to
1+1+1=1
. Carissa also has a new website called
Totally Tots
, which is one of my favorite sites now! Go check it out!!! Have a great week everybody!!