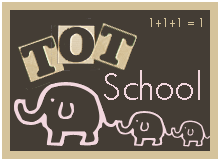 Yes, I know I'm late with my Tot School post...I've been really busy this week getting Trey appropriately transitioned from the 3rd grade into the 4th. It has really been quite a week!

Last weekend, we went to the cabin that my (very talented) father-in-law is building in Arkansas...himself. No really...ALL by himself - well, for the exception of Grandmommy. My brother in law Rick helps out when he can, and so do we...but that's about all the help he's had. :)
It's been 4 years of working through every weekend/vacation he takes off work, but Gary Sr. is about to get it finished!! You can't tell by looking at the primer on the exterior, but eventually, the entire house will be a pale yellow with white trim, and pecan trees will line the drive. This is the backside of the house. The front side overlooks the river, and has two large dormer windows that will make for an even more scenic view. The porch wraps around 3 sides of the house, and there will be french doors leading onto that from the master bedroom. This will be a perfect place for them to spend their retirement! (And in case you were wondering, yes, that is an outhouse out there to the right...it is only temporary -thank goodness!!- until they get all the plumbing done which will come later in the building phase).
Grand-daddy always takes special time to show the kiddos what he's doing and he lets them help whenever they want. Here, he's showing Addie how to measure a board correctly.
Lindsay loves taking "Nature Walks" and looking for rocks. A few months ago, we found 2 huge pieces of sandstone with a vein of quartz crystal running through each piece, and she is always eager to find more! In these particular pictures, I was trying to convince her that digging up Grandmommy's carefully laid stone path outside the cook house wasn't the greatest idea. She didn't agree. Sorry Grandmommy!!
This is the "driveway" that leads up around a bank of woods and into the area where the house is being built. Lindsay and I love to take our walks here.
She loves sitting on the huge wrap-around porch and looking out over the river. I can't wait to get her into a canoe this summer!!
Later in the week, we made a "Counting Catepillar." I just cut out 1 medium and 5 big circles out of construction paper, and let Lindsay tape them together. We curled pipe cleaners around our pencils and made the antennae. I wrote the numbers 1-5 on each circle and counted out the corresponding numbers of colored pom-poms. She was supposed to match both the correct color and number of pom-poms to the corresponding circle. It took her a few tries, but she got it in the end! :)
I also found a letter matching/memory type game in one of her workbooks. She had so much fun with it, that I decided to make a bigger (better) one as a file folder game that she can play anytime. :)
The goal is to find the matches to all the letters/numbers so she can place them on the cookie sheet. You can't really tell, but on the left, there is a "placemat" that has a photo of a traditional place setting. That was made into a pocket to store all of the "cookies."
We also played the coolest game called Hullabaloo!! All of my kiddos enjoyed this game! It was a hoot!!!
Well, that was it for us for Tot School for last week. For more Tot Reports from other mom's, visit Carisa's blog,
1+1+1=1
!