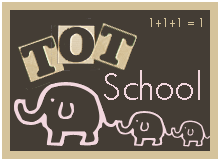 Last week, Tot School was fairly non-existent due to our Spring Break. Since Addison still attends public school, we follow her schedule to make it easier on everyone. Trey and Lindsay enjoy being off when Addison is off, and honestly...so do I. So you'll notice there's no theme, letter of the week, etc.

She did have some free dress-up time, which she normally doesn't have access to unless it's for dramatic play during Tot-School time. (I started having to keep the dress up materials put up when she started trying to go overboard with the glam...she spilled a good amount of red fingernail polish in my bedroom floor - did I mention I have white carpet? She's sooo sneaky!!) So she decided she wanted to be a Barbie Superhero...note the Barbie doll in the hand-fashioned "holster" on her back. Yes, those are panties on her head...I swear I don't know where she comes up with this stuff!!
While we were on Spring Break, Gary had to go to the Best Buy in Shreveport, LA to manage their store while their managers were all out of town at some event. SO...he was gone from Tuesday until Saturday. The kids were really missing their daddy, so we drove down to visit on Thursday morning. It's only an hour and a half from our house, so it was a very do-able trip. The kids had a great time spending the night with Dad in his hotel, and Gary was glad that he got to have some company.
Since he was working the closing shift, we got to spend the morning with him and most of the afternoon. Then he went to work and we went to play!! We went to the Boardwalk down on the river, where there are lots and lots of shops. The city has completely revitalized the downtown area and it is so kid-friendly down there during the daytime hours! The streets have been permanently blocked off, and the only transportation is a trolley system that runs the length of the boardwalk. There is a carosel, lots of restaurants, and tons of shops! Think of walking around your favorite downtown area - with a scenic view of the river, and NO TRAFFIC!! It was awesome!
I took the kids to the Build-a-Bear Workshop, where they each got new outfits for their existing bears. Lindsay also had a bear already, but Addie had picked it out for her on a previous trip, so it was Lindsay's first experience at Build-a-Bear and I just couldn't tell her no when she asked for the pink monkey with hearts on it's hands, feet, and tummy.
We had a bit of trouble with temper tantrums in the workshop, so I decided that a learning opportunity existed there and we did a mini-lesson on feelings when we got home. Here she is showing her happy face, and her angry face (too funny!!) It was all I could do not to laugh at that one!!
So that was our week off from Tot School...if you're interested in what other (non-slacker) moms did for Tot School this week, visit Carisa's blog:
1+1+1=1
.